At Papermint, we love paper. We believe in a sustainable earth and only source from environmentally friendly suppliers. Our team has hand-selected the most beautiful papers, sourced from USA, Italy and Great Britain, to showcase your designs. Please check out our paper pages to view our paper selections. While you're browsing designs, the paper choices and the corresponding prices for an item will be listed on the item's detail page. We aren't able to print an item on a different paper type or weight than what's listed.


The dimensions for all our products are listed below: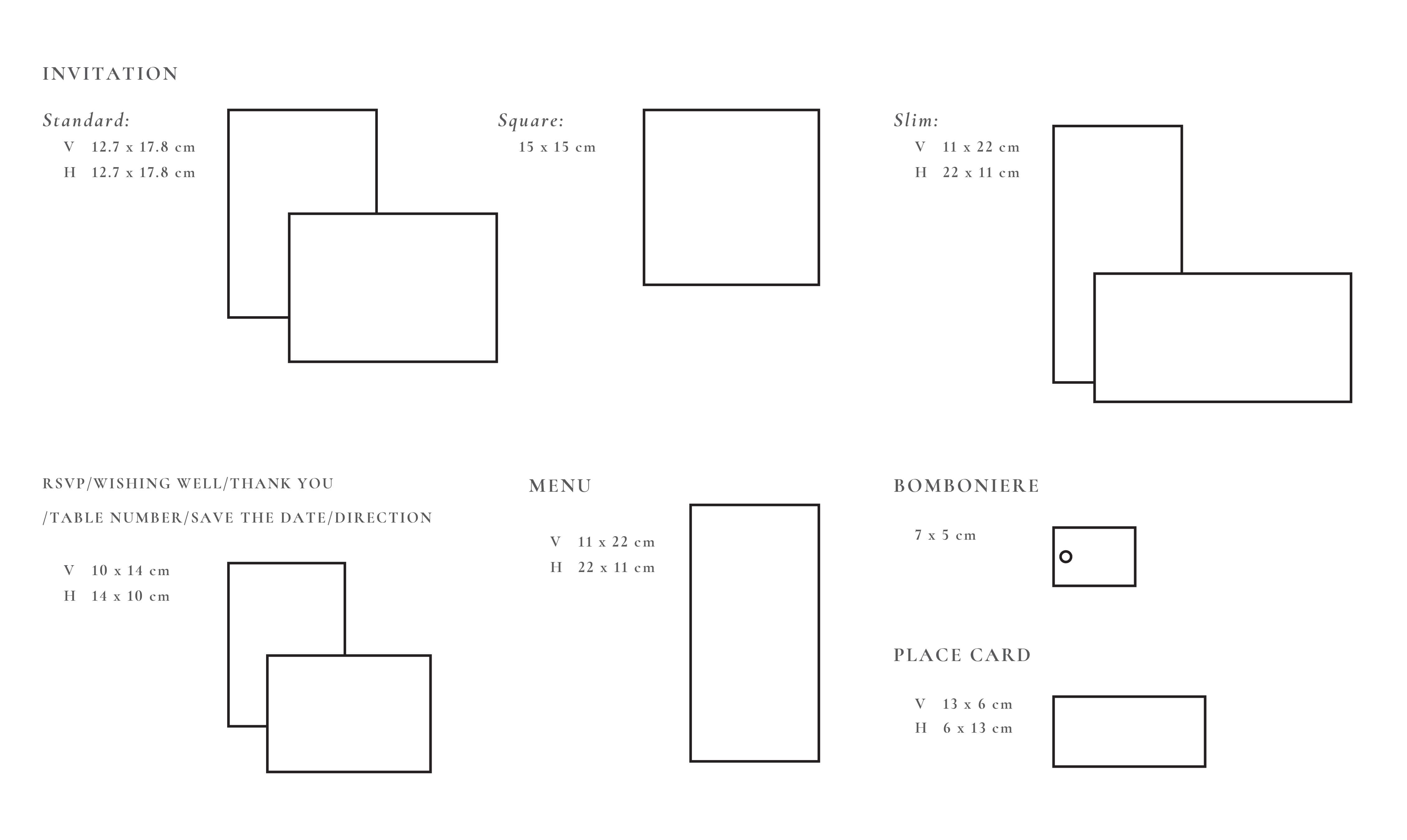 Of course you can! There's no substitute for seeing and touching the paper yourself. That's why we recommend you to
order our Sample Kit
to get a firsthand experience of our design collections. We'll even reimburse your first Sample Kit purchase if you decide to order our products.
Here are the goodies you'll find inside:
Papers and finishings swatch book
Featuring a selection of paper stocks, weights, and textures with different finishing types applied.
Envelope samples
For a preview of the variety of stock paper available.
Foil samples
For a preview of the variety of stock foil available.
Papermint is proud to be a part of your special event. The Papermint logo is printed on the back of all envelopes. We do not have the option to remove, change, or replace the logo from the design.
You will be able to purchase more envelopes without having to buy extra cards. If your order has not been delivered yet, you can increase the quantity of envelopes. Do keep in mind that envelopes with guest and return addresses printed may postpone the delivery date.

Our tip is to always order more envelopes. Especially if you plan to handwrite the guest addresses.
Once you place an order we will do our best to keep you updated with the progress. We will notify you of the progress regularly via email. But the best way is for you to regularly check your account for the latest updates just in case you miss the notifications. Also, please remember to add our email address to your "Not Spam" list.
If you are looking for information about how long it will take to get your printed suite delivered to your doorstep, the following is what you need to know:
Design Phase
Creating your digital proof might take one to two business days and may take a couple of revision rounds before final approval. In some instances, three to four rounds of revision are required, which will add more time to the process. Please keep in mind that the timeliness and quality of your feedback will also determine the speed of the design phase. The design phase ends once you've provided approval to print the artwork and settled any outstanding invoice that may incur (e.g upgrading paper type or quantity). During this phase, you'll be able to customise any design components.
Printing
Once the design phase is completed, our design team will prepare the materials and begin printing. Depending on the design you choose, it may take 4-10 working days to complete the suite. Digital print takes 4-5 working days at most, while other special finishings may take up to 10 working days. Although we do not have a rush service, please notify us during your digital proofing so that we can do the best to cater to your urgency. During this stage, you cannot change the design, nor cancel the process. If you do need to make adjustments, please immediately contact our consultant.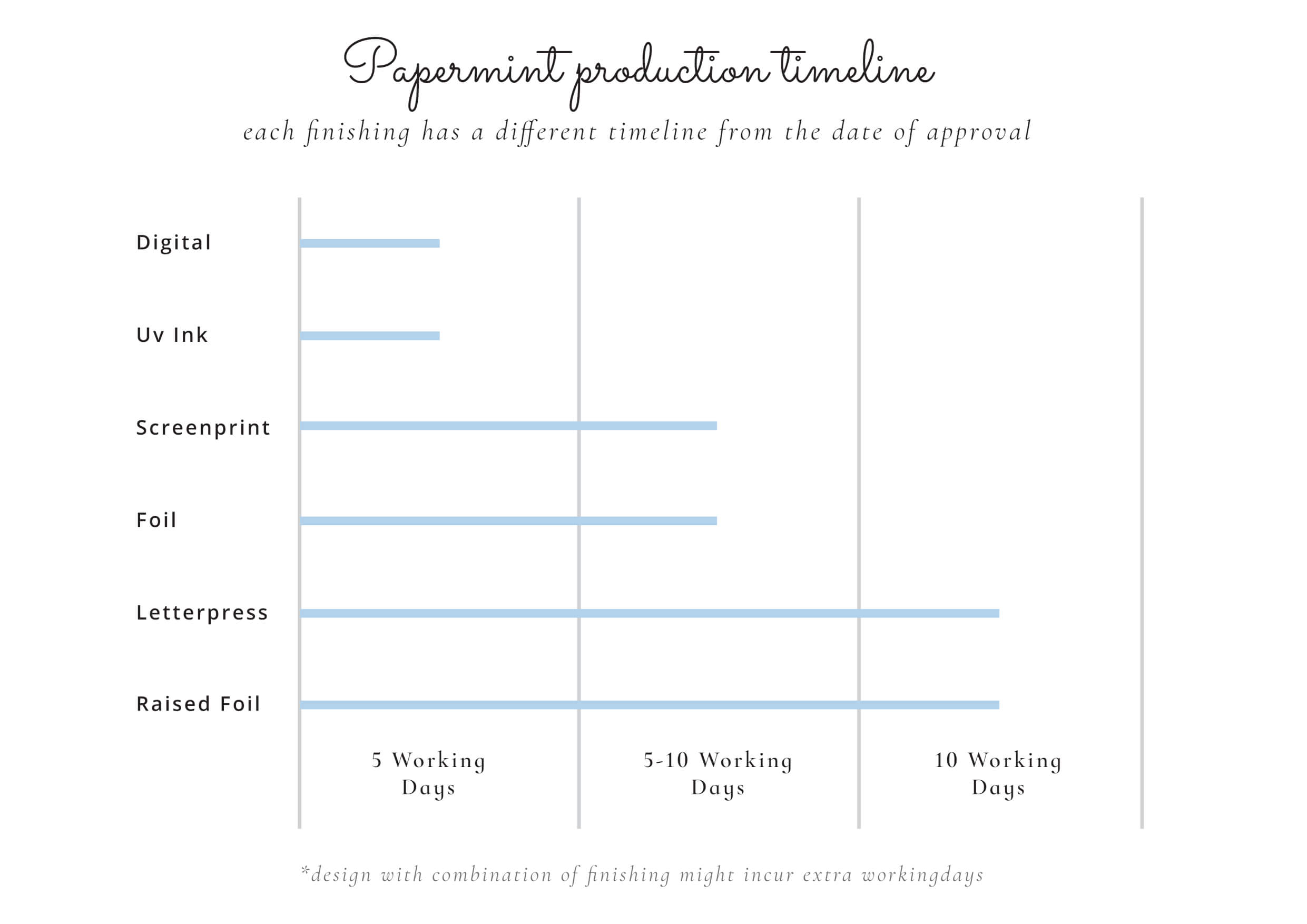 Shipping
We only have one type of delivery right now. Delivery time will depend on the country. If you are in Australia & New zealand, the delivery will take 3-5 days. As soon as we've packaged your order and prepared it to ship, we'll send you a tracking number to check on the delivery progress. If you need to calculate the delivery time to your schedule please drop us an email (
hello@papermint.com.au
) and let us know where are you located.
We have established a rigorous quality check to prevent something like this to happen. However, there are some instances beyond our control and occasional human-error, so we sincerely apologise if it has happened to you.
Please contact our consultant with all the details and we will resolve the issue as quickly as we can or send an email to
hello@papermint.com.au
.
Sorry for the inconvenience. We'll sort it out for you. Please drop us an email (
hello@papermint.com.au
) and one of our consultants will be in contact to help you finalise the order.
If you can't find a design suited your taste, but would still like to use our services, select our
Make a Request
page and we will help you to create a design you'll love. We will provide you with a free design consultation and guide you throughout your journey. Don't worry it's obligation free! Note: the best way to communicate is through visual references. You may upload images or provide us with reference website links.
There is no limit to what we can print on letterpress design. Classical dark colours are usually our clients favourite and sometimes vibrant neon colours for those peculiar taste. Do keep in mind light colours are not recommended for text and small body text works best on darker colours.
While we are waiting for our engine to be ready where you can freely change the font in your design, you can choose the fonts that we have in our
font list.
Keep in mind that we have more fonts in our library. So if you have any font that you like upload an image so we could search them in our font library.
As long as you can type it, we can print them! We will gladly print any language you request. When placing an order, use the Special Requests box to let us know that you are requesting a language change. Our design team will then send you an email with instructions on how to transfer the body text. In some instances, we might require you to supply your own font file where we'll assume that you own the right to use it.

Please keep in mind, we might not be able to help you with typos and word choices in the language that you want. Be sure to double check for any errors when you are approving your digital proof.

If you would like to print both English and non-English invitations, you will need to place two orders.
Papermint's envelope liners can be purchased as a matching accessory with most cards and invitations. They will come already glued to the inner side of the envelope. If you choose liners, all of the envelopes you order will include this detail.
Yes, we can. When purchasing the envelopes, please tick "Print your mailing address on envelope" for your mailing address to be printed on the back of your envelope and tick "Print guest(s) address on envelope" for your guests' addresses to be printed on the front of your envelope. Currently, we only print on white and ivory envelopes. We can also enhance your mailing address with a foil finishing upon special request.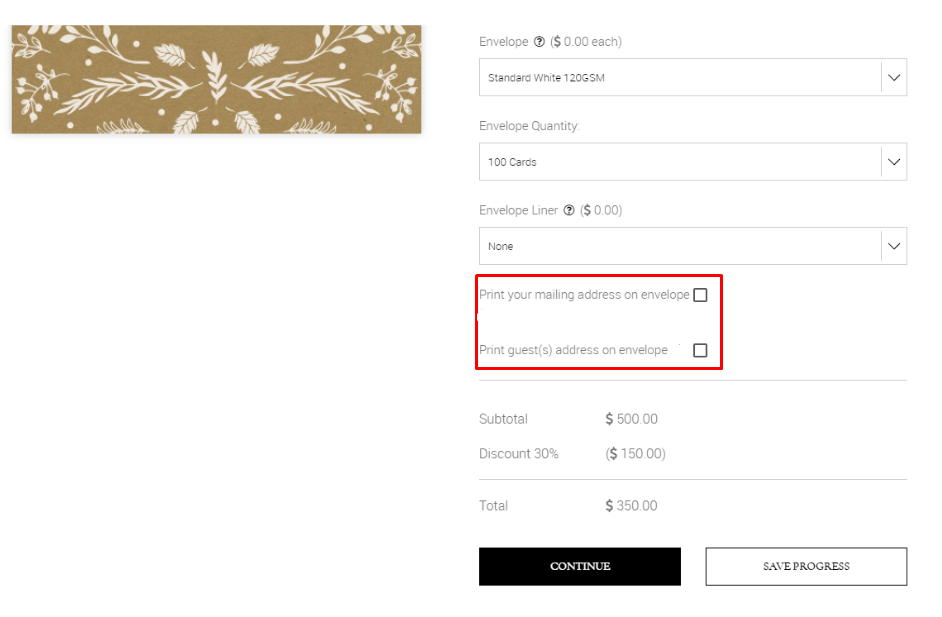 Can you print envelopes in colour?
We currently digitally print on our envelopes. So as long as the envelope selected is white or ivory, please let our designer know in the design brief that you would like it printed in colour. You can even request a design to match the theme of your stationery set.